One more week has passed by and Its Sunday today. I think that its good to document the X journey because this helps us understand it more and also figure out the room for improvement. I utilise the Sunday time to write this post. Every week when I write this progress report for the last seven days, I figure out that some of the components did well and some of the metrics did not do well this week and this comparison itself is quite informative. And now I understand why @anomadsoul recommends documenting this progress. Here I am with this week's progress report.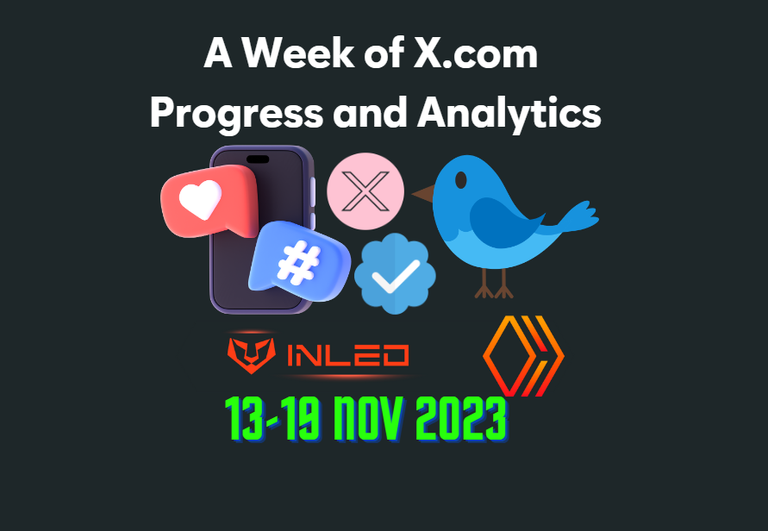 This week is from 13th to 19th Nov 2023. Once again this week I have been consistent with my long-form post on Twitter. This is the second week when I did not miss a single day of my posting and I also ensured that was long the post which is more than the required characters. Premium users are given an additional feature which you can call a premium feature also that we can publish the content in long form. This feature is not provided to the free users so they can only write within the limited characters and beyond that they will have to make a thread to cover up the content. As far as I understand the Twitter algorithm works in such a way that if any person is posting every day then it pushes the content to more people. We can say that consistent posting or staying active on Twitter will bring more audience to the content because this is how the algorithm works.
People who Tweet consistently throughout the month get higher engagement over accounts with intermittent posting. Try posting a photo, people like photos.
This week's Progress (Analytics)
Here I am back with the X analytics for this week and there are some changes this week. Changes are bound to happen every week and I do understand this part. This week I tried to grow different metrics but still, a few metrics are in red and I understood that it is not easy to maintain the green colour in everything. Tweet with photo or video gets more attention and this is why I post mostly with image to get more attention. A tweet without an image does not look good and with an image its presentation is nice.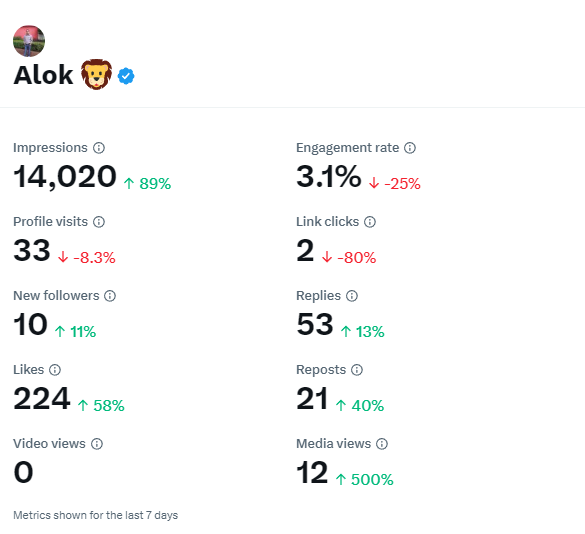 There is a significant improvement in this week's analytics as compared to the last week and below I am pointing out some of the highlights-
The improvement on impression is pretty good this week as compared to what I had last week which was also dropped so it is something that went well this week I can say.
New follower count is ten this week which is showing an increment of eleven percent overall.
The reply count has also increased and with the percentage it is up by 13%.
For the first time I can see a 500% increase in media views which is nice.
There was more red colour in last week's Analytics but this week the situation has been improved.
This week I also tried sharing the post link with the tweet and this worked well.
There was no increase in follower count last week but I have got 10 followers added.
Last week Analytic:-
This is the snapshot from last week to have a comparison.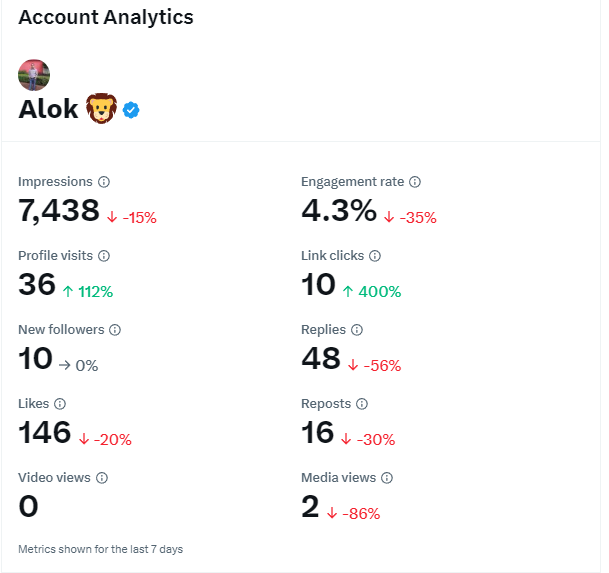 A total of 14.1 impressions were achieved this week and daily its 1.9k impressions per day. It was just 7k last week with daily numbers of 1k per day.

Top Tweet
Here are the top 3 tweets for this week and this is going well. I posted a tweet about web3 ageing and that got more impression. This gaming post got over 900 impressions and this is a good number. I can see the growth in the overall impression count despite the fact it was low in a week. I will continue to follow the same topics related to crypto, web3 and gaming etc.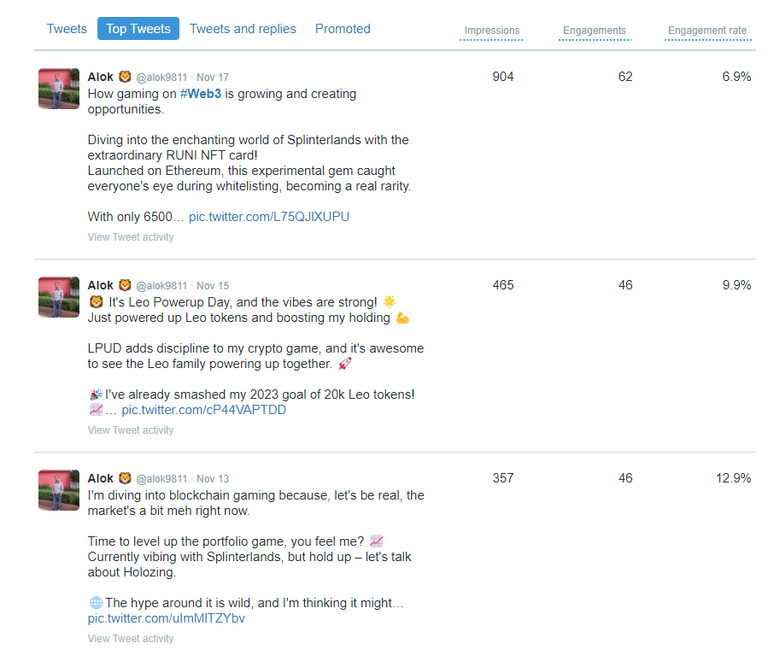 This week I also spent more time on the engagement and tried replying to most of the responses which also worked well. Now I'm learning more about the best practices to be followed for better growth on X.com and I also know that its a long-term process to build and grow an account but with consistency its possible. People say that Web 2 is easy but I think Web 3 is easier than Web 2 when it comes to building an account and growing different metrics. X as a company is trying to generate different sources of revenue and it has launched its AI tool also but is only for the premium plus members and hope someday they make it available for plus users too.
My X account- https://twitter.com/alok9811
[images are from my Twitter account wherever source is not mentioned]
Thank you
Posted Using InLeo Alpha