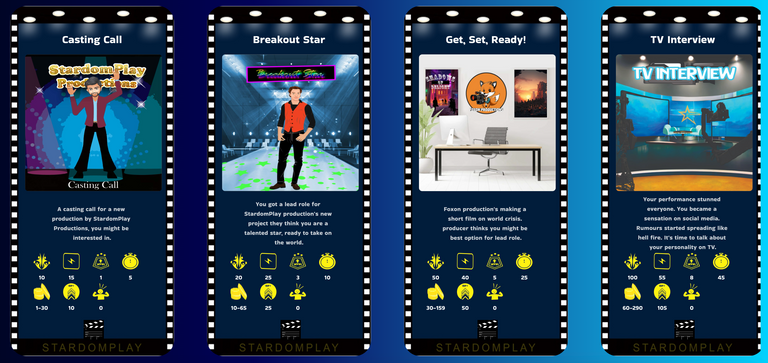 Disclaimers: This post is not financial advice. If you decide to follow what I am doing you do so at your own risks. This post contains my referral URL if you play the game even as a free player I may earn crypto at no extra cost to you.
Image is a screenshot from Stardom Play
Stardom Play is an idle card game that simulates breaking into the TV/ Movie business. It's free to play , but to progress you will need to buy cards. Cards can be bought with in game earnings swap.hive and some other tokens.
I just reached level 8. I am very glad I purchased some energy cards (snacks and hamburger).
My next goal is to get one or two more hamburger energy cards. These will be vitally important once the ego factor kicks in. I should only need one or two more cards total thought at least for the foreseeable future.
For the time being I don't plan to spend any more Hive/ Swap.Hive and will use my in game earnings to buy cards and packs. This may change in the future especially if I decide to go for "millionaire" status.
I am still undecided if I am going to go for "millionaire " status (staking 1 million STARDOM tokens). It will take a very long time to earn and with games like this I usually do a combination of earning and buying the tokens.
You need to be level 25 , have 2000+ fans and have a million STARDOM staked to open up the first millionaire mission so I have quite a bit of time to decide exactly what I am going to do. I currently have about 850 fans but buying cards and packs won't be such a big deal once I open up a few more higher paying missions.
With games like this I usually "pay myself back" the funds I put in with my earnings and then I am just playing with profits. This will involve me selling some of the STARDOM I earn. I also count post earnings as recouping my funds so maybe if I post enough about the game I won't have to sell as much STARDOM :). I only put about 40 swap.hive into the game so it shouldn't take too long (hopefully) to get that back.
I am still very new to the game and learning. There has been talk on Discord about new features to be added to the game soon-ish (the next couple of months) and I think I will wait until those features are in place before I decide to commit to the millionaire status. Most likely as long as the game keeps improving I will eventually set "millionaire" as my goal.
For now I am doing my missions, buying specific cards as I need them and just seeing how it all goes.
If you are interested in playing, please use any link posted here to get started.
Thanks for reading.
♥️🦄